UNI 5739 Hex Bolts  – A2 / 304 stainless steel metric hexagon head cap screws – full thread bolts
UNI 5739 Hex Bolts and hexagon head cap screws are metric externally threaded fasteners with a hexagonal washer faced head and a chamfered tip to facilitate mating with an internally threaded component. UNI5739 hex cap screws have a fully threaded shank and are manufactured to very strict tolerances.
Parts4world supply various of metric standard fasteners & custom fasteners. The UNI5739 hex bolts, hex cap screws and other inch and metric industrial fasteners all are available for standard fasteners or custom requirements.
The metric UNI5739 Hexagon Head Bolts / Hexagon Head Cap Screws are available in Diameters ranging from M2 to M52, and material in A2 and marine grade A4 stainless steel as well as aluminum, brass nylon and steel.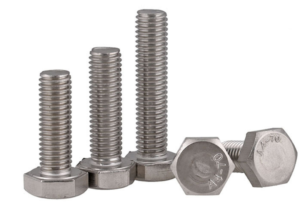 UNI 5739 Hex Head Bolts Full Thread (Stainless Steel) – Hex Head Cap Screws
Technical information:
Norm: UNI 5739 – Hexagon Bolts Full Thread / Hex Head Cap Screws
Available material: A2, A4, 304, 316 stainless steel, carbon steel, plastic, brass, nylon…
Finishing availabe: nature or according to your requirements.
Measurement Unit: Metric (mm) / Imperial (inch)
Equivalent Norms
:
DIN 933
,
ISO 4017
,
CSN 21103
,
DIN EN 24017
,
PN 82105
,
UNI 5739
,
EU 24017
,
ANSI B18.2.3.1M
,
ASME B18.2.3.1M
,
NFE 25-114
,
IS 1364-2
,
GB 5783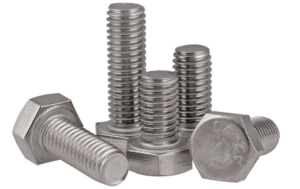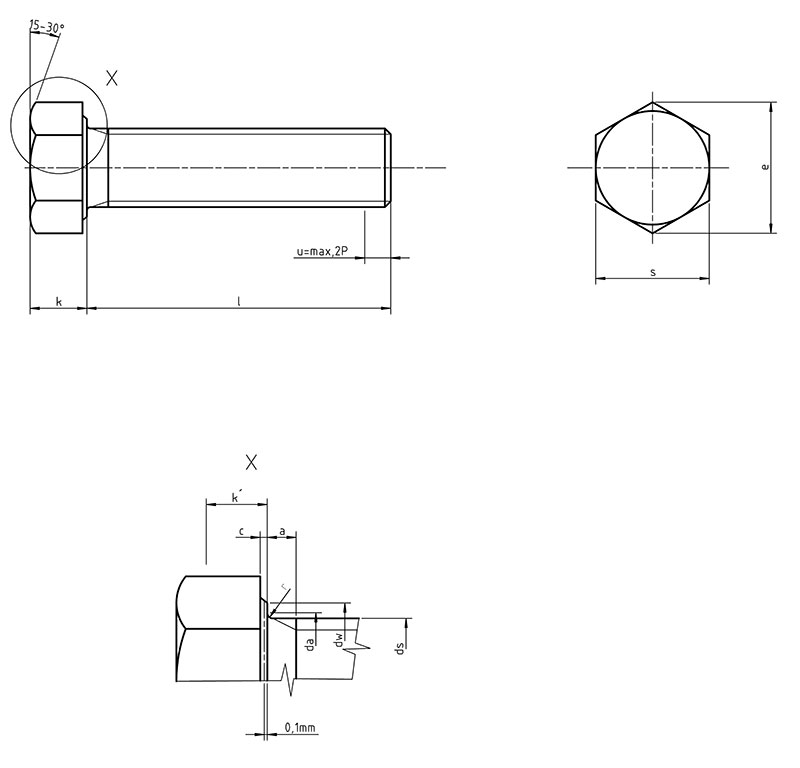 l – length of bolt exlcuding length of hex head (Optional)
d – the nominal diameter of the thread
k – head height
r – radius
e – the diameter of the circumscribed circle (not less than)
s – size hex head turnkey
c – thickness of the mounting collar
a – ;ength undercut
Specification information: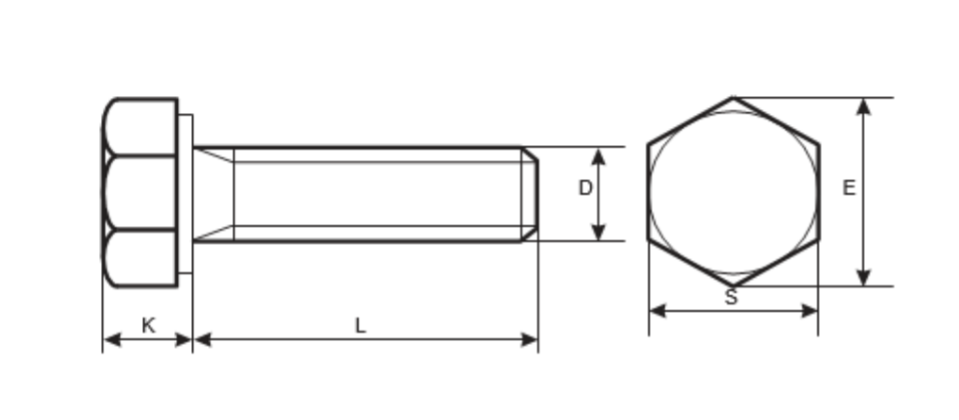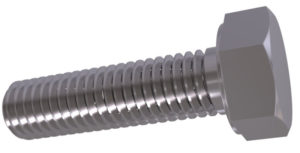 Custom-made design of Hex head bolts full thread UNI5739 are available.
OEM orders are welcome.
Just visist our website for order any custom machined parts:  https://www.parts4world.com