DIN 127 A Spring lock washers– Metric stainless steel spring washers & shims
DIN 127 A spring lock washers is a disc lock spring washer, also called spring lock shims.  Type DIN127 A have bent up tang at both ends of the washer.  DIN127 Type B simply have square/straight ends.
DIN127 A helical spring split lock washers are commonly used spring lock washers.  It is a split metal ring that is bent into a helical shape.  It causes the washer to exert a spring force between the fastener's head and the substrate, which maintains the washer hard against the substrate and the bolt thread hard against the nut or substrate thread, creating more friction and resistance to rotation.
Split Lock Washers are a left hand helix and allow the nut to be tightened in a right hand direction only. When compressed by tightening the nut, the washer bites into the substrate and exerts a spring force between the bolt and the substrate creating frictional resistance to rotation.
DIN 127 A spring washers shim – Metric stainless steel lock washers
Specification Information:
Norm: DIN 127 A spring washers shim – Metric stainless steel lock shims
Type: spring washers
Available material: A2, A4, 303, 304, 316 stainless steel, carbon steel, mild steel, plastic, nylon, brass, aluminum…
Finishing available: nature or according to your requirements.
Measurement Unit: Metric (mm) / Imperial (inch)
The DIN 127 A spring washers and lock shims has found wide application in the fields of mechanical engineering and instrument making, agriculture and construction, medical, military and architectural industries, in which this type of fasteners is used to avoid self-loosening of structural elements under the influence of dynamic influences.  These lock washers and spring shims are mainly made of spring steel.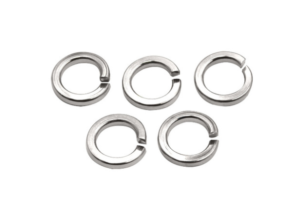 The DIN 127 lock washers and spring shims allows completely eliminating the possibility of deburring the fastening element after assembly of the structure and throughout the entire period of its operation.  You can connect surfaces of different materials, and mounting can be performed by screws, bolts, studs.
Parts4world manufacture and export stainless steel Din127 form A spring lock washers for all Industries.  These stainless steel spring washers and shims are manufactured according to the DIN127 A and DIN127 B specifications and are available with us in wide range of diameters.  Our stainless steel lock washers and spring shims help the nut-bolt combination to strengthen the grip.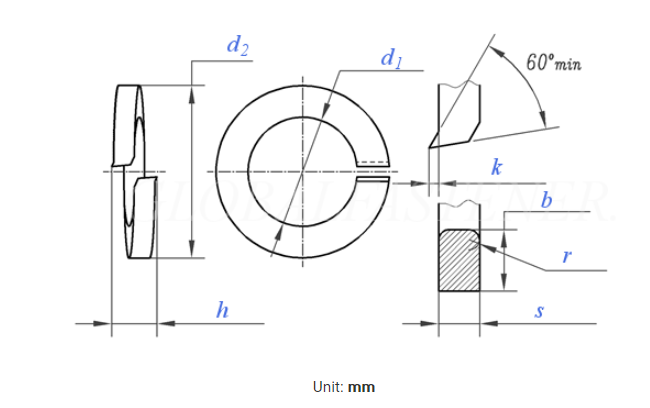 d1 – inner diameter
d2 – outer diameter
h – unloaded washer height
s – washer thicknessd
b – side length
k – tooth height
r – radius
DIN127 Form A technical informationsDIN 127 A spring washers are removable and reusable. We are providing the range DIN 127 A lock shims with a variety of materials, sizes, design, strength, finishes and other configurations.
These spring lock washers and shims are available with a various type of plating, finishing or coating options such as Tin, Zinc (yellow, white, blue, black), Hot Dip-Galvanized, Chrome, Nickel-Brass, Black Oxide, Electro Tin, Phosphate, Powder Coating and any other as required.
We also manufacture custom spring washers & lock shims that perfectly match customer design and specifications.
Parts4world supply many kinds of unique industrial fastener products and spring lock washer shims from stock in inch and metric standard or custom in a variety of materials and finishes.
Before order, pls let us know what spcifications of the DIN127A spring washers you wanted, our engineer team will offer you a reasonable price as soon as we can.
OEM orders are welcome.  Just send your RFQ to us order@parts4world.com
Or visist our website to order any custom machined parts:  https://www.parts4world.com