ISO 1234 Cotter Pins – Stainless steel metric ISO1234 cotter split pins
ISO 1234 Cotter Pins are common used fasteners that hold assemblies together. Made of soft metal wire looped on itself so the two resulting tines can be inserted into a pre-drilled hole and bent to keep it in place.
ISO1234 split cotter pins also known as split pins, R type lock pins, these have one prong slightly longer than the other so they're easy to open. Bend prongs outward to secure. Use them to secure the ends of clevis pins and shafts to keep components in place.
Cotter pins are typically made of soft metal allowing for easy installation and removal. However, this also makes them poor locking devices when strong shear forces are expected.
Steel pins have good strength. Pins with a zinc-plated finish have some corrosion resistance.
18-8 (304) stainless steel pins offer a balance of strength and corrosion resistance. They may be mildly magnetic. Passivated pins offer added protection against corrosion and oxidation.
ISO1234 cotter pins & split pins –

Equivalent Norms:

DIN 94, ISO 1234, CSN 21781, PN 82001, UNI 1336, GB 91, ASME B 18.8.1, ANSI B 18.8.1, BS 1574, NFE 27487, JIS B 1351, KS B 1321

Parts4world supply many kinds of unique industrial fastener products and Cotter Pins & Split Pins from stock in inch and metric standard or custom in a variety of materials and finishes.

The following sizes ISO1234 cotter pins & split pins are available for immediate shipping from stock:
a – offset end
b – height of eye
d – diameter split
l – length split
c – width of the eye
Specification information:
ISO1234 cotter pins – Metric stainless steel split pins
Norm: ISO1234 cotter pins – Metric stainless steel split pins
Type: cotter pins
Materil: stainless steel
Available material: A2, A4, 303, 304, 316 stainless steel, carbon steel, mild steel, plastic, nylon, brass…
Finishing available: nature or according to your requirements.
Equivalent Norm:
DIN 94
,
ISO 1234
,
CSN 21781
,
PN 82001
,
UNI 1336
, GB 91,
ASME B 18.8.1
,
ANSI B 18.8.1
,
BS 1574
,
NFE 27487
,
JIS B 1351
,
KS B 1321
Measurement Unit: Metric (mm) / Imperial (inch)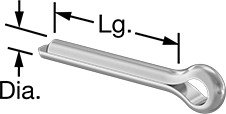 Just let us know what spcifications of the ISO1234 cotter pins you wanted, our engineer team will offer you a reasonable price as soon as we can.
Custom-made design of ISO1234 cotter pins & split pins are available.
OEM orders are welcome.  Just send your RFQ to us order@parts4world.com
Or visist our website to order any custom machined parts:  https://www.parts4world.com